WHO WE ARE IN 21 WORDS
We are a creative marketing agency located in Michigan that specializes in website design and development, social media marketing, and branding.
WHO WE ARE IN A FEW MORE WORDS…
We are creatives, marketers, builders, story tellers, wanna be rock stars, sometimes decent golfers, and absolute die-hard dreamers. We believe that working hard and smart are both equally important, and the clearer your vision, the cleaner you will arrive at your destination. Most of our time and energy is spent crafting copy, coding websites, drinking coffee, creating brands, designing graphics, drinking more coffee (not Dan though), and managing content. We work long hours so that someday soon you will hear our name come up in your company's next marketing meeting.
WE ARE DRIVE CREATIVE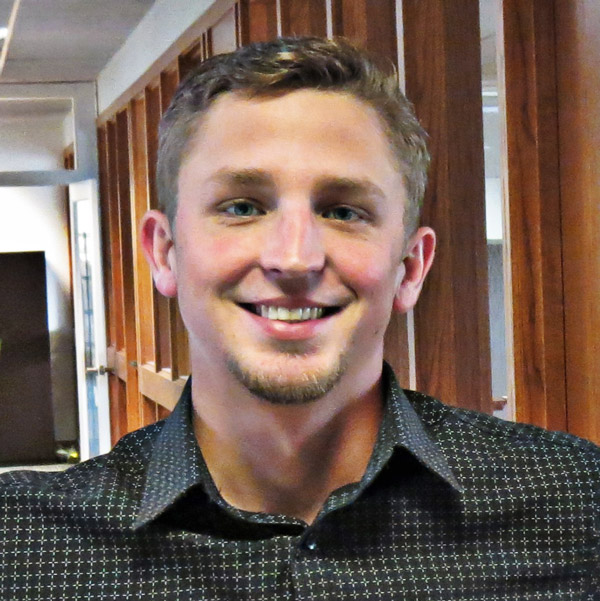 COREY BARKACH
\

Dragon Slayer
---
Corey is the young blood at Drive and is often mistaken as being our high-school intern or the kid that mows your lawn on Saturday morning. He has an impressive amount of applicable real life business and marketing experience under his belt. Corey is an idea guy, responsible for all client relationships and communications at the agency. If you ever want to speak with someone at Drive Creative, Corey is your guy… he can talk for days, just ask him. In his free time, you can find Corey collecting stacks of high society in a dimly lit card room somewhere, or hanging out with his wife Amanda and two Beagles Gatsby and Penelope.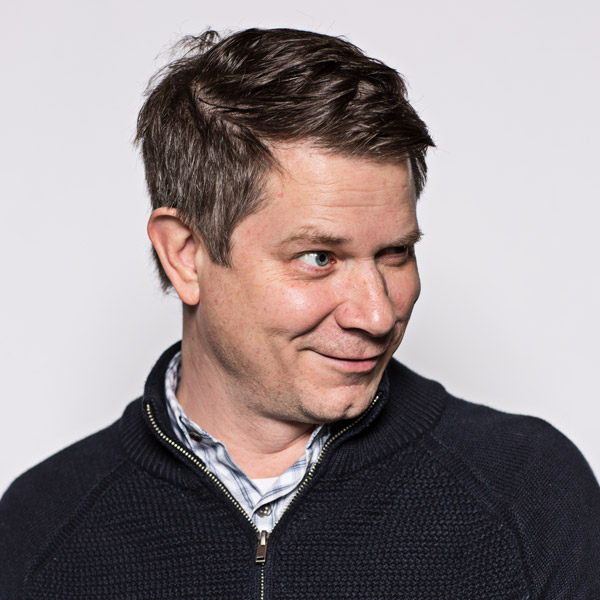 DAN DULKA
\

Puppet Master
---
Dan has more than 10 years of agency experience, and loves helping clients and the team get great work done, period. He started Drive Creative because he knew there was a better and more effective way to tell the story of a brand and help them succeed. Dan's obsession with process, workflows and analysis drives his passion for client delivery. When Dan isn't solving how something can be done better/stronger/faster, you can find him taking his kids to MSU games (Go Green!), practicing sarcasm or losing at Fantasy Football. He also hates coffee (not kidding).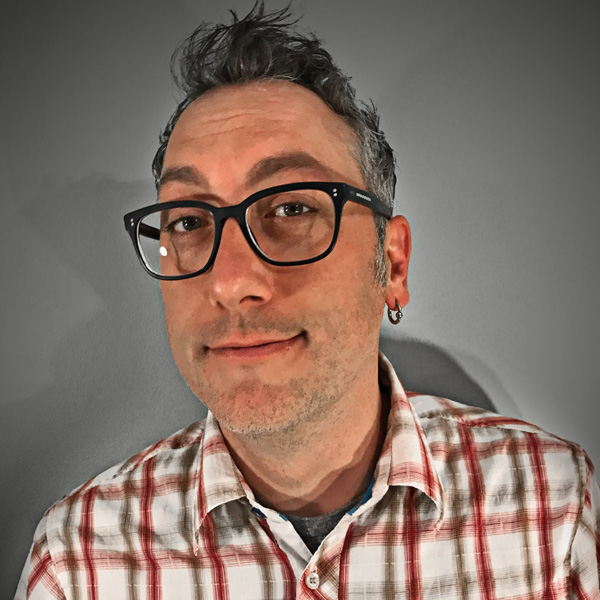 STEVEN TOTH
\

The Wizard
---
Like this site? Steven built it. Like our work? Steven had his hands on it. We call him the Wizard for a reason – he makes Merlin look like Neville Longbottom. Steven spends his day at Drive Creative solving problems. He is the agency's Creative Director and Lead Web Developer. Steven is a rare breed, sometimes you may hear us deviate from the title "Wizard" to "Unicorn" or the self dubbed "Digital Swiss Army Knife". When he isn't busy managing the computer simulation known as the Matrix that we all actually live in, you can find him spending time with his family and praising his idol Lance Bass.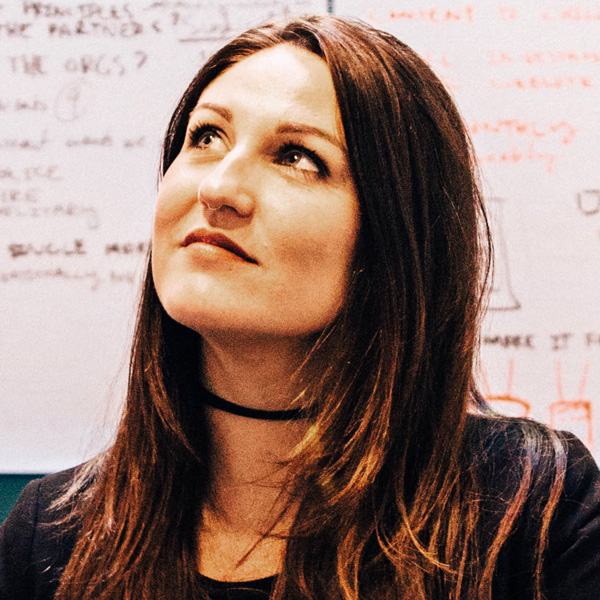 ALYSSA WEBB
\

The Resident Raconteur
---
Alyssa has more than 8 years of experience as a content ninja and social media specialist. She lives and breathes by the idea that empathy is the strongest component to any marketing campaign. She drives her clients to adopt that mentality to create lasting and meaningful relationships with their customers. When she isn't pounding her keyboard or producing content, you can find her screaming at the television during hockey games (or Game of Thrones episodes), reading books, or dancing to Phil Collins. She is passionate about Oxford commas, education, and mismatched socks. Her husband hates the latter.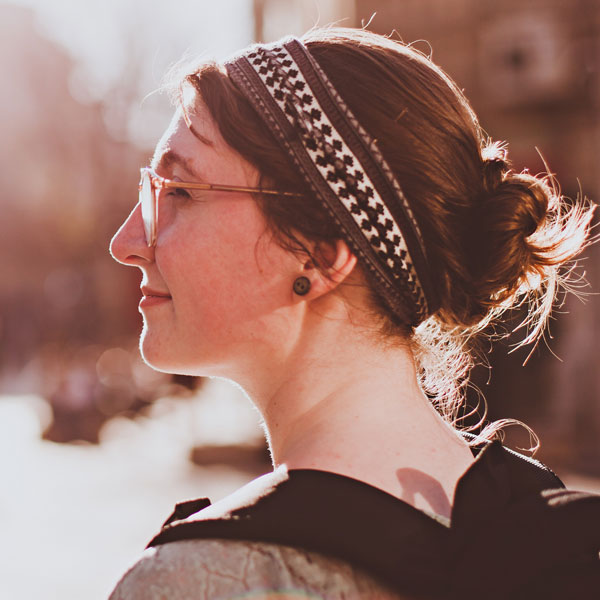 ANGELA JOUPPI
\

Night Owl
---
Angela's passion for creative visual communication alongside her nerdy obsession with design trends is what keeps her going strong… And a ridiculous coffee addiction. She loves all things design-related, and collaborating with other creatives. In her free time, she's usually losing track of time working on obscure art projects into all hours of the night, hanging out with her husband & four month old puppy at the dog park, watching Photoshop tutorials for fun, or just binge-watching Doctor Who.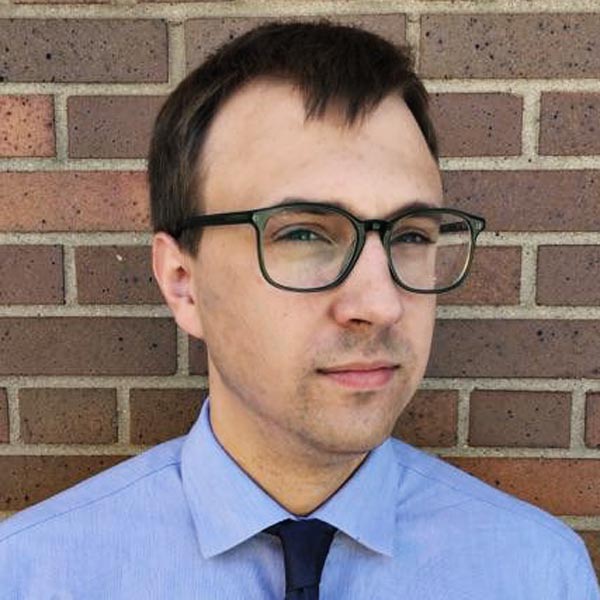 IAN MARK
\

Obi-Pen Kenobi
---
Ian breathes life into our creative endeavors with his wordsmithing talents. He articulates this skill set through mountains of blogs and endless pages of web copy, case studies, press releases, etc. Beyond his knack for copy, Ian is further powered by his wealth of knowledge in the SEO world. To Ian, the pen is mightier than the sword, but not quite as strong as the lightsaber (he's a huge sci-fi fan). When he's off the clock, Ian enjoys reading and narrowly escaping death on technical mountain bike trails.
WHY THIS MATTERS TO YOU
I guess it doesn't… I mean, we are qualified, but so are a lot of other agencies.There are a ton of creative agencies to choose from, not only in Michigan, but all over the nation.
So why Drive Creative Agency? Should we tell you that we care? Or that we are more transparent? Or that our process helps achieve better results for your company? Sure, those statements would all be true (and truly generic), but really at the end of the day, you are going to partner with us because you believe in our work and that we can help you achieve your goals.
SO IT REALLY DOESN'T MATTER WHAT WE SAY ABOUT US… (but you can take a look below and see what our clients have to say, which we think holds more weight anyway) It is more important for us to learn about YOU. Tell us about yourself, and let's see if we are the right fit.
DRIVE Creative Agency created a gorgeous website for us that perfectly reflects who we are and the services we offer. They created our LOGO and established our branding. Branding was a foreign concept to us but Corey and Dan educated us and patiently guided us through that creative process. They were attentive to our every need and responsive to all of our input. The process was not rushed--they were more concerned with getting it right. The pricing was extremely reasonable and they made the payments affordable for our small business. We would not hesitate to work with DRIVE again. We highly recommend this skilled agency to everyone who is in need of the services they offer!
---
We have been in business for 28 years - and have worked with many different companies... and Drive Creative Agency has been a complete joy to work with. Their creativity matched with a pro-active approach creates a very appealing working relationship. From the results we have seen with Drive, we are very excited to continue this partnership, and grow as a national company.
---
Drive Creative Agency totally re-vamped our website and they nailed it! Creative, Artistic, Visual, and Informative, all while instilling a sense of the Randolph's culture and brand. Corey and Dan were always available and accommodating to our ideas and vision for the site.
---
Love this company, they went above and beyond creating my website and we're more than happy to accommodate any and all of my needs.
---
Drive Creative agency delivered a high quality website, better than I could have hoped for. They were very informative and patient with me throughout the entire process which was very important as I was in the middle of my very busy season. Their creativeness transferred beautifully and the site is extremely user friendly with many additional features that I both requested and was surprised with. I am beyond satisfied with the final product and I know I am in the best of hands for any additions that may arise in the future. Hats off to the team!!!
---
We loved working with Corey and the team at Drive Creative. They were fun to work with and kept creative ideas flowing while listening and taking into consideration the image we were trying to project. They kept the process moving quickly and over delivered on the timeline.

Best of all, they completely understood what we were looking for and nailed it!
---
DRIVE Creative Agency reviewed my former website and created great looking and functionally pleasing brand new website for our business. We were more than pleased with their customer care, attention to detail, creativity and of course the website. During the process they were very attentive to our questions, concerns and tweaking changes to make everything flow with the viewer. They stayed on task, kept to the timeline as promised and, even after the work was all done, DRIVE contacted us with suggestions and continues to offer ideas to help improve our business growth. Their pricing is worth every penny and the end result is even better than I had expected. DRIVE keeps impressing me with their talent, creativity, and professionalism.
---
The guys at Drive did a fantastic job with our new website and logo! It turned out better than I could have dreamed! We have received so many compliments about the website - "the website is so easy to find info," "the website makes it easy to get what you need," and "We love the email feature." The logo has also received equally good compliments, mainly because it helps people get the bad taste of the former owners out, and helps to show that the new employees, managers, and owners are willing to go above and beyond to make their experience memorable! Thank you for the excellent work.
---
Working with the Drive Creative Agency team has been great. Their process in delivery was very transparent, and all deadlines were hit on time... it's hard to get great creative and great customer service from the same company at the same time, but somehow these guys do it!
---
Corey and his whole team have been awesome!! They have amazing ideas and extremely helpful with any issues or questions that come up. The whole team has always been very responsive in getting back to you by email or phone.
---
We hired Drive Creative Agency to design and develop the Anchor Bay Packaging website. Their team did a great job at portraying our business with professional photography, a modern design, and compelling copy that explains "who" we are and "what" we do for our customers. We look forward to working with them on future projects.
---
I've dealt with many different companies regarding web design and branding, every company never took the time to listen and actually hear my needs like Corey, Dan & Steve have. They have been a pleasure to work with. We're in the middle of a project together and I must say A+ in my book thus far.
---
Corey and the team at Drive have done a great job with our company's creative advertisements, information material, and handouts. We have received multiple compliments from our customers and even competitors regarding how well laid out our print and online material is. When we need something they are right on the ball to help us in a crunch.
---
Drive Creative Agency has been a great marketing partner for our brand. They have taken a proactive approach in bringing new ideas to the table throughout our entire relationship. They helped us develop our identity and branding and we are very happy with the results.
---
Dan, Corey and the rest of the Drive team did a great job of understanding my needs, designing and building by website, and delivered the project on time and on budget. What we do at APM is so visual, it was very important to convey that on our website. The Drive team delivered on that and I'm very happy with the results. They do great work and I would use them in the future.
---
Working with Drive Creative has been straight forward and comprehensive. They took the time early on to understand our goals and desires. The end result was nothing less than perfect, they nailed it. The transparency with the process, and responsive communication through each aspect from start to finish made the overall project much easier than anticipated. The seamless step by step discovery and collaboration between IDS.com and Drive Creative guided by Dan and Corey made the entire process much simpler than thought possible.

We are very satisfied with the everything that Drive Creative has done for IDS.com and we continue to use them today!

---
We received approximately 5,000 more applicants from March to Dec 2017 vs 2016.

The change factors between the years were the new website and for that period the social media campaign!
---